happy birthday to me! ♥~ thankies for giving me my
FAVORITE
dessert for birthday gilbert!
-
today is
mikan
's birthday!
cheer cheer
YAY! everyone been busy lately so not many could celebrate with me, but i know you all remember because i got 80+ messages on facebook and mobile! i feel so loved! ♥ thankies everyone!!
well haven't updated last few things, so figure since i am tired from today, i will post what i could remember! latest cooking (and lots of cholesterol!)? wallet egg omelette popped over rice!!
drool drool
. look nommy yes? :) hee~
also a while ago,
mio
went traveling and got
mikan
little gift. all edible because i am a fatty!
all are still in fridge so it is in fresh shape! (okie maybe i eat chocolate already ;x)
so what else have been up? i have been wanting to dye my hair! since so many recommended palty, i decided to try it!
color? bitter cappuccino! here is a list of possible colors!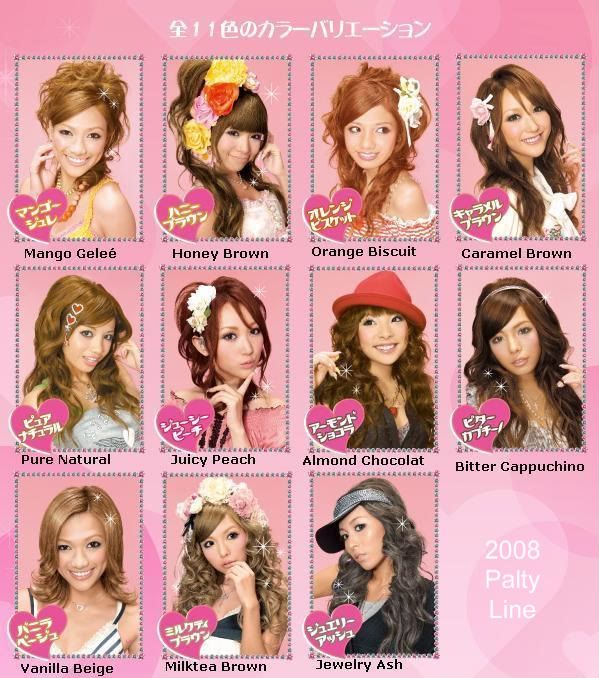 colors came out true. my hair is
black
and it came out to a nice
brown
. only down side? at least
TWO
bottles are needed! my hair is fine and long, relatively thin, but i only had one bottle and couldn't get all the color through! so i gave up and reverted to regular dye to get dark dark brown-black (natural). for those who have a lot of hair, i recommend three bottles to be safe!
also,
mikan
did a trade-off with
chiyo
! i made her bloomers and in exchange, i got a gift! so what could it be hmm?
juicy couture
! but what is it???
JUICY COUTURE BOYSHORTS! uber cute hm? so cute i just keep in box *Q*
also did two purchases! recently got flower air freshener! brand new and not opened yet, but will see how it smells when i get in car!
everyone knows i have an obsession with little crowns and pretty design right? hee~
and finally, a lovely package came a while back and i got my case for my contacts! so what is it what is it!
orenji x traveling contacts case!
so cute and convenient! it is size of palm, and when opened, one side is a full mirror, the other holds a contact case (included), a traveling squirt bottle for solution (included), little tongs to pick up contacts (included), and a little q-tip looking thing for cleaning (included). i love the tongs and q-tip thing because it makes it so much more sanitary! lesser chance of getting dirty contacts! also very convenient that everything fits in this little box! recommended highly! please check ebay (forgot seller) for such cases! it comes with many other colors too!
now i also ordered contacts recently too! totally forgot about them, but realized i already have a pair i could use for cosplay! i ordered
POP C DARK GREY
contacts, and now it's up for
SALE
! here are some model pictures:
note: i do NOT own any of these pictures! but the following are pictures i took of my OWN contacts that i just received and i am selling!
these are EOS G-204 series contacts with PLANO (0.00,0.00) prescription. the diameter is 14.5mm. i did order POP C DARK GREY (supposed to be 15.5mm), but that would be too big maybe? too dramatic? so this is equivalent (in my opinion) but 1mm smaller! price is
$25 FLAT
(includes shipping!) anywhere! please inquire if interested as this is good price for them!
anyways, this week we had a meeting with cafe and gilbert brought me a fruit tart! oh so happy! everyone had a slice and we were all happy! to top it off, gilbert got me ANOTHER present to go with it! what is it hm???
what IS this?! it is DECO BLING PAPER IMPORTED FROM JAPAN! *Q* mr. gilbert know how i love to deco my stuffs, so he was kind and purchased several of these as a birthday gift to me! so what did i do right after i got it?
how fun!!! will put other pieces of deco on it when i purchase some! but how did i make it so perfect? each sheet comes with the sheet of glitter adhesive and another clear adhesive sheet. place the adhesive sheet over the item you want to deco, and draw out which parts to cut. remove adhesive and place on glitter paper and trace-cut it. after, peel of backing and attach adhesive side to item! to make clean cuts, use exact-o knife to clean out edges! ta-da! now i got
bling
DS Lite! ♥
what a long tiring day! ♥ hope everyone is having a good summer though? hee~